FAIMER Regional Institute of Indonesia for Educational Development and Leadership (FRIENDSHIP)

Medical and health professions education is currently developing and rising vastly in Indonesia and around the globe. The Faculty of Medicine, Public Health and Nursing Universitas Gadjah Mada (FMPHN UGM), as a pioneer in medical and health professions education in Indonesia, anticipates the demands by establishing an international collaboration with the Foundation for Advancement of International Medical Education and Research (FAIMER) Institute Philadelphia, United States. FAIMER is an internationally-recognized institution that focuses on developing research and scholarship in health professions education. After the negotiation process, FAIMER Institute and UGM have signed a Memorandum of Understanding to establish FAIMER Regional Institute of Indonesia For Educational Development and Leadership (FRIENDSHIP) that will be coordinated by FMPHN UGM.
FRIENDSHIP is the 11th FAIMER Regional Institute and the first in the South East Asian region. The other FAIMER Regional Institutes are in India (4 centers), Brazil (1 center), China (2 center), South Africa (1 center), Chile (1 center) and Egypt (1 center). FRIENDSHIP will become a center of collaboration between health professions education institutions in Indonesia, South-East Asia and possibly Australia and Oceania.
FRIENDSHIP participants, mentioned as FRIENDSHIP fellows, will gain an opportunity to learn more about project management and evaluation, educational leadership and development, and educational research/scholarship. All fellows are expected to establish and initiate a project that is relevant to their interest and needs, to be evaluated and developed in the fellowship program. FRIENDSHIP program will be conducted in 2 years using blended-learning model, to incorporate 6 milestones:
Pre-institute session and introduction (online learning)
FRIENDSHIP Residential Year 1 (face-to-face, 6-7 days)
FRIENDSHIP Distance Learning Year 1 (online learning, 11 months)
FRIENDSHIP Residential Year 2 (face-to-face, 7-8 days)
FRIENDSHIP Distance Learning Year 2 (online learning, 11 months)
Graduation and convocation as FRIENDSHIP FAIMER Fellows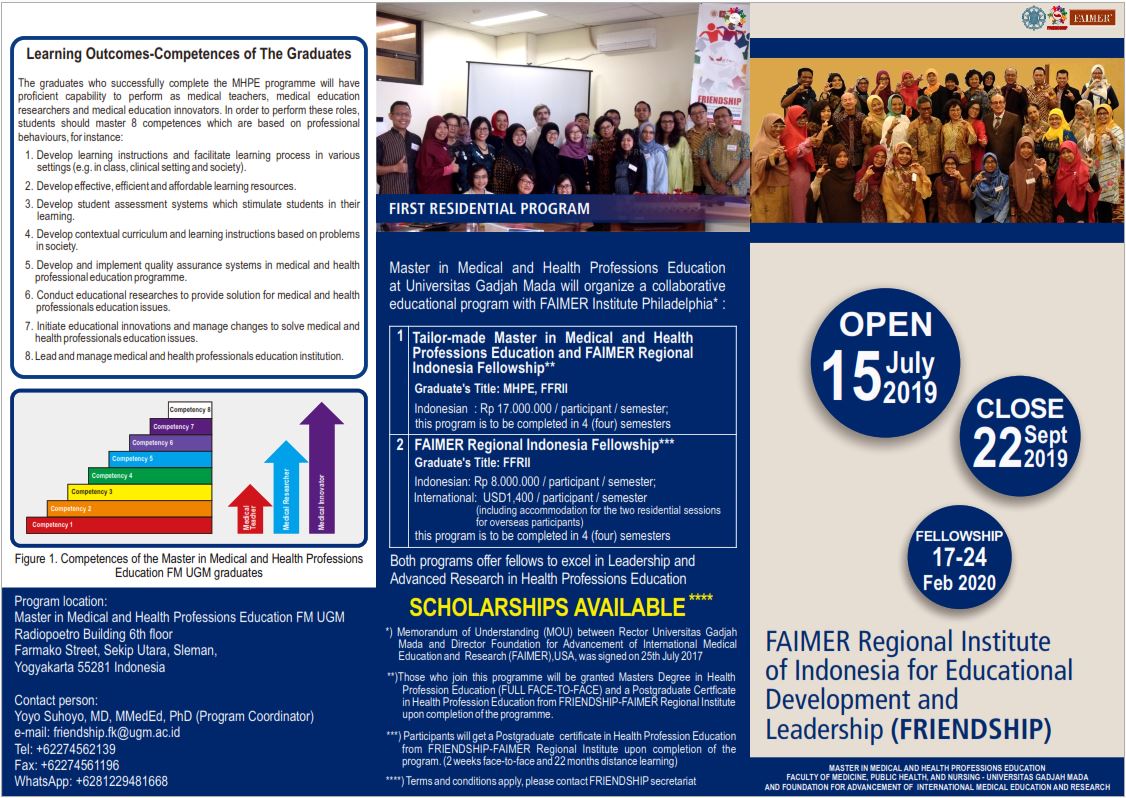 The Master Program in Medical and Health Professions Education (MHPE) in FMPHN UGM also offers a double program in conjunction with FRIENDSHIP: Master of Health Professions Education (MHPE) + FRIENDSHIP FAIMER Fellow. Participants of the combined program will obtain both MHPE and FRIENDSHIP FAIMER Fellow predicate by the completion of the program. The MHPE in FMPHN UGM is nationally accredited (A level) and also internationally accredited by the ASEAN University Network (AUN). Lecturers, researchers and clinicians are invited to join this program. The evaluation, management and leadership capacity in health professions education will be enhanced through this program, to improve the graduate quality in health professions education institution.
The Department of Medical Education and Bioethics FMPHN UGM, as the operator of this program, will be more than happy to assist you if any questions or inquiries about FRIENDSHIP occurs. Inquiries are welcomed via email (friendship.fk@ugm.ac.id) and telephone +62274562139. We'll see you FRIENDSHIP fellowship in Yogyakarta!
Strive for the better medical and health professions education
Prattama Santoso Utomo, MD, MHPEd
Department of Medical Education and Bioethics FMPHN UGM
FRIENDSHIP Program Co-coordinator